Old Mercury M-47 Truck Get Back On The Road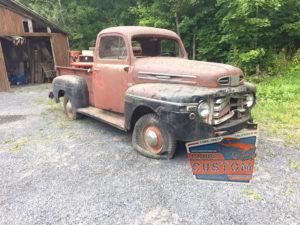 Engine swaps have been going on forever, and while the old days of swapping a small-block Chevy into anything and everything are getting far and few between, the latest modern engines have found their way between the frame rails of many classic cars and trucks. The LS swap has gotten to be one of the more popular swaps, but there are still some taking place that are just different enough to be cool.
So hold onto your Blue Oval on this one, because this old 1950 Mercury M-47 half-ton truck has a has a whole new attitude after its recent engine swap. Keeping the outside of the truck looking like it's worse for wear, under the hood Sean Getty of Ottawa, Ontario, has swapped in a Dodge V10 engine.
Sean called the truck MaddMerc about a year ago and planned to get the truck down to the SEMA show in Vegas. His original plan was to stab the old truck with a blown Flathead V8, but being the owner of a numbered edition of a 2010 Viper ACR, he changed his mind and decided a V10 mill was the ticket.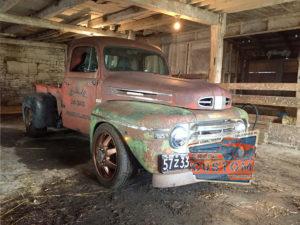 He sourced a V10 from a 2004 Dodge Ram SRT-10 and decided that a Tremec T-56 six-speed trans from a Viper, and staying with the Mopar theme a Dana 60 rearend with 4.10 gears resides out back.
To put another unique spin on his truck, he opted to forego the inlaid wood bed and laid out thousands of Canadian coins in the bed. He then used some tinting to map out the shape of a Maple leaf over the coins.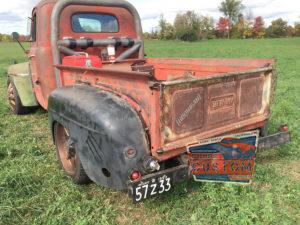 All in all, it doesn't really matter that he's put a Dodge engine in a Mercury, because the smile you get when you romp on the skinny pedal makes it all worth it. This truck is pretty cool, the V10 power and Tremec trans make this one helluva driver – no Mercury blues going on here!
Posted by
By Michael Harding
Original Post
http://www.rodauthority.com/news/crazy-bout-a-mercury-how-about-when-it-has-a-dodge-v10-in-it/